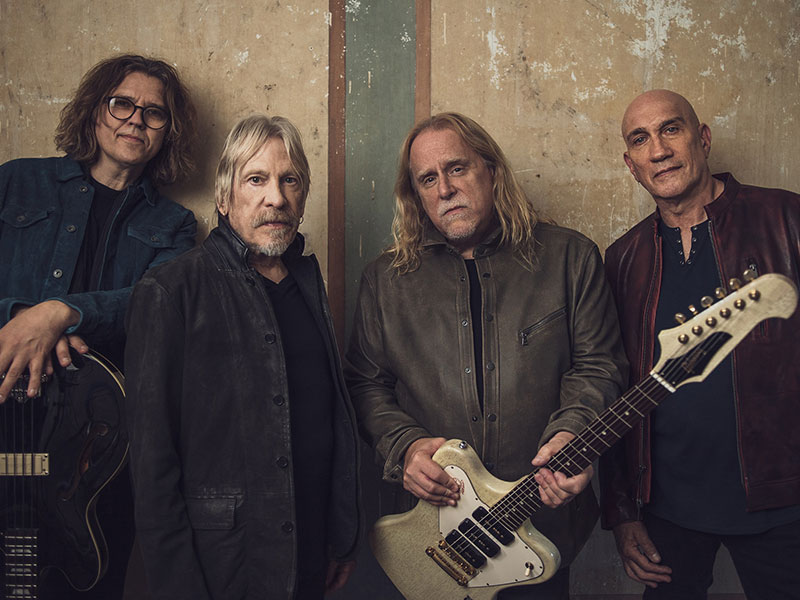 | | | |
| --- | --- | --- |
| Performing: | | Sunday July 23 |
| Stage: | | Main |
| Set Time: | | 8:30-10pm |
Gov't Mule has been synonymous with the jam band scene since it began. Their sound is a meld of bluesy, hard rock riffing and songwriting, and virtuosic improvisation. Originally a power trio comprised of guitarist Warren Haynes, bassist Allen Woody (both formerly of the Allman Brothers Band), and drummer Matt Abts, the band recruited all-star guests for live performances after Woody's death in 2000. Keyboardist Danny Louis joined in 2002 and bassist Jorgen Carlson became permanent in 2009. The band has also released charting collaborative sets with jazz-funk guitarist John Scofield (Sco-Mule) and reggae legend Toots Hibbert (Dub Side of the Mule). Five of their albums have landed inside the Top 100, including 2017's Revolution Come… Revolution Go. 2021 saw the release of Heavy Load Blues, a back-to-basics set that included six Haynes originals and seven covers of tunes by legends.
The original leaders of Gov't Mule, Warren Haynes and Allen Woody, were well known to Allman Brothers fans for their stint in Southern rock's most famous native sons. In 1989, Haynes became the second replacement for Duane Allman, providing a good foil for Gregg Allman and Dickey Betts on guitar and vocals; Woody filled out the Allman sound on bass. Five years after their debut, the duo joined drummer Matt Abts in the side project Gov't Mule, a band in which the Allman Brothers' influence was apparent but complicated with the psychedelic, bluesy power trio feel of Cream.
Gov't Mule debuted in 1995 with a self-titled album on Capricorn Records, followed by the stellar concert date Live at Roseland Ballroom. The studio follow-up, Dose, appeared in early 1998; another concert set, Live…With a Little Help from Our Friends, followed a year later, with the complete show appearing as a four-disc limited-edition set. A new studio effort, Life Before Insanity, appeared in early 2000. A vital member of the band was lost, however, on August 26, 2000, when Woody was found dead in a hotel room in New York City. The band had been preparing to record its next album, and after a time, Gov't Mule finally decided to carry on with the project, this time with guest bassists ranging from Flea to Bootsy Collins. The two-volume Deep End series for ATO Records was the result. Phish bassist Mike Gordon also got involved in the project, filming the recording of the albums for a planned documentary. In mid-September 2001, the group hit the road for a six-week tour in support of Deep End, Vol. 1; Oteil Burbridge filled in as bassist for most of the dates.
The second volume of Live…With a Little Help from Our Friends appeared in 2002, and the Deepest End: Live in Concert CD and DVD was released in 2003. One year later Déjà Voodoo, Gov't Mule's first studio effort since Woody's death, came out. It featured his official replacement, bassist Andy Hess, as well as new keyboardist Danny Louis. The same lineup released High & Mighty in 2006. The two-volume Benefit Concert series followed in 2007. In 2009, Gov't Mule issued By a Thread, their first studio album in three years. Hess was replaced by bassist Jorgen Carlsson, and the album featured a guest appearance by ZZ Top guitarist Billy Gibbons. In 2010, the Evil Teen imprint issued Mulennium, a three-disc package that commemorated Gov't Mule's complete 1999 New Year's Eve concert at Atlanta's historic Roxy Theater with the band's original lineup. The concert also included guest appearances by the Black Crowes, Little Milton, and Audley Freed.
After an extended recording break in which Haynes recorded his first solo album, Gov't Mule returned to the studio. Shout was issued in September of 2013. It contained 11 new songs, and was accompanied by a bonus disc that featured a host of guest vocalists (including Toots Hibbert, Jim James, Dr. John, Steve Winwood, and Elvis Costello) fronting the band on different versions of the same tracks. In 2014, Haynes and Abts began to commemorate the band's 20th anniversary with a series of archival recordings. The first, Dark Side of the Mule, featured 90 minutes of Pink Floyd covers and three hours of music and video recorded on Halloween 2008 at the Orpheum Theater in Boston, Massachusetts. It appeared late in 2014 and was followed by Sco-Mule, a set compiled from two in-the-vault recordings of a 1999 live date with guest jazz guitarist John Scofield. In the spring of 2015, the band released Dub Side of the Mule, a document of their fabled New Year's Eve 2006 performance at the Beacon Theater in New York. The multiple-disc release included an hour-long reggae set with Toots Hibbert, and guest appearances from Gregg Allman and John Popper. In the spring of 2016, Evil Teen announced the archival release, The Tel-Star Sessions. It contained newly mixed and mastered versions of the original trio's earliest — and never previously released — 1994 demos, cut at Tel-Star Studios in Florida in 1994. The first single, a cover of ZZ Top's "Just Got Paid," was released to the internet upon announcement, and was followed by the ten-track album in September.
On November 8, 2016 — Election Day — Gov't Mule began work on a new album in New York City with the working title Revolution Come…Revolution Go. According to Haynes, throughout that first day, the band half joked about what would happen if Donald Trump became president. The next afternoon, they understood that their title had been prescient. Produced by Haynes in collaboration with Gordie Johnson and Don Was, and cut in Austin (guitarist Jimmie Vaughan contributed to the track "Burning Point") as well as New York. The set's first single, "Stone Cold Rage," evoked the atmosphere of social unrest from coast to coast. The remainder of the double-album's 14 songs were split between topical songs, personal ruminations (Haynes had recently become a father and had lost some close friends), and a cover of Blind Willie Johnson's "Dark Was the Night, Cold Was the Ground." In June 2017, almost seven months and one day after sessions for Revolution Come…Revolution Go commenced, the album hit the street.
In the summer of 2019, the band celebrated its 25th anniversary by teaming with the Provogue label and veteran music filmmaker and photographer Danny Clinch to release the concert film and recording Bring on the Music: Live at the Capitol Theatre. The project comprised songs from two shows performed at the venue in Port Chester, New York during the spring of the previous year. In addition to concert footage, the film included interviews with bandmembers, family, and friends.
In 2021, the Mule issued Heavy Load Blues. A back-to-basics collection Haynes had been planning for years, the set included six originals and a clutch of covers by blues masters Ann Peebles, Howlin' Wolf, Elmore James, Junior Wells, and Bobby "Blue" Bland, as well as by blues-influenced artists such as Tom Waits and the Animals.