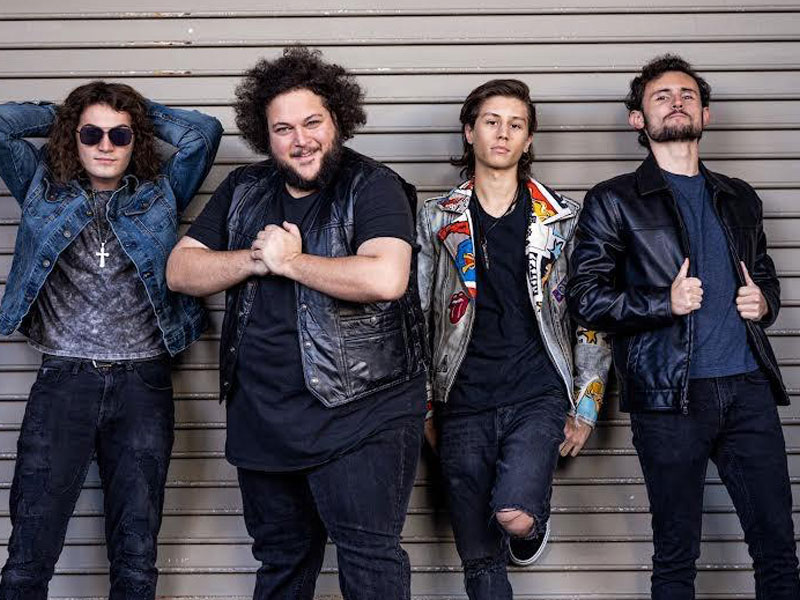 | | | |
| --- | --- | --- |
| Performing: | | Sunday July 23 |
| Stage: | | Jambalaya |
| Set Time: | | 3:35 – 4:15pm |
Adam Ezegelian has had rock energy fueling him since the day he was born. He was part of every school play, and numerous extracurricular music programs like jazz band and vocal jazz ensembles growing up, but everything changed when Adam auditioned for American Idol back in 2015. He took his influence's and love for rock and made people happy with his crazy voice and facial expressions. Adam merged with the Metal Hawks in early 2019 and they've had stellar rock chemistry ever since. His biggest influences are Aerosmith, Guns and Roses, and AC/DC.
Johnny Barry, guitarist for AMH, has always had the vision of being in a rock band from such a young age. He picked up the guitar when he was 8 and hasn't been able to stop since. At age 10, he started his first band, Metal Hawks, with two other kids who would later be replaced by current bandmates, Ryan Daversa on vocals and later bass, and Alex Hertler on drums. He met Ryan at a school talent show in 2014, and Alex at a music store where they both took lessons. His biggest influences are Van Halen, AC/DC, and Greta Van Fleet.
Ryan Daversa, bassist of AMH, has had music in his life since he was a baby, his parents having met in a recording studio. He encountered Metal Hawks at a school talent show when he was 14. When the opportunity came to audition for them, he hopped on it right away. He picked up bass 2 years later when he and his fellow bandmates, Johnny Barry and Alex Hertler, couldn't find someone to fill that position, and he decided to do it himself as a bass-playing frontman. Once Adam took over singing duties, he shied away from his and began focusing more on bass. His biggest influences are Rush, Van Halen, and Led Zeppelin.
Griffin McCarthy hails from a musical family, so naturally music has been in his life from the beginning. He started playing drums when he was 3 years old and went on to play in many bands and theater productions. He's toured with several acts including Yngwie Malmsteen and Prong, who went on the road with Overkill. He even toured briefly with a Broadway production of Rent. After Alex Hertler left the band in 2022, Griffin was quick to audition and take over the throne. His biggest influences are Rush, The Who and Queen.