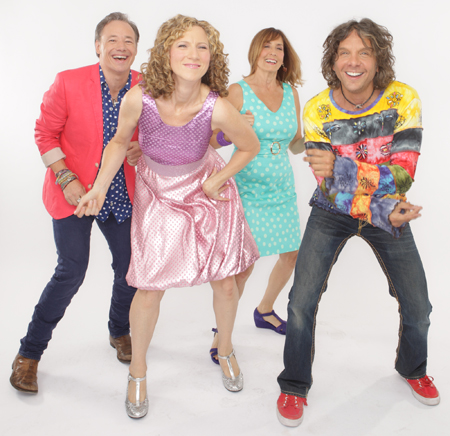 | | | |
| --- | --- | --- |
| Performing: | | Sunday July 17 |
| Stage: | | Main |
| Set Time: | | 12:00 – 1:00pm |
"The Queen of Children's Music" – People Magazine
When Laurie Berkner embarked on her career as a children's recording artist in the summer of 1997, she started small – personally filling orders of her first release (Whaddaya Think of That?) from her living room in Manhattan while still keeping up her preschool music teaching jobs. It wasn't long, however, before the 500 copies she originally pressed sold out, and Two Tomatoes Records was born.
Laurie's growing popularity in the New York area led to a second release, 1998's Buzz Buzz. Soon more local toy stores and children's specialty shops began selling her music and distribution companies began purchasing quantities of her recordings. Shortly after the 1999 release of Victor Vito, Laurie took the bold step of hiring a publicist, Sarah Geist Rosen (SKG Publicity). Things began to move more quickly thereafter, with national media coverage helping spread the word.  Laurie then appeared on the "Today" show and suddenly Two Tomatoes was swamped with orders.
In the meantime, Laurie's closets were becoming more and more stuffed. Two Tomatoes was taking over her living room with the 2000 re-release of her first recording on disc, and running the record label was no longer a part-time job. Laurie decided to give up her teaching to, as she put it, "reign in the monster!"  In 2002, shortly before the release of Under A Shady Tree, it became clear that there was no longer enough space in Laurie and husband Brian's one-bedroom apartment for a record label.  Two Tomatoes moved into a real office in New York City, with real staff including Shannon Chirone, John Waldman (Great Knight Productions), Corinne Barlow, Katie Schneller, Michelle Puskas, and publicist Elizabeth Waldman Frazier.
It's one big happy family!