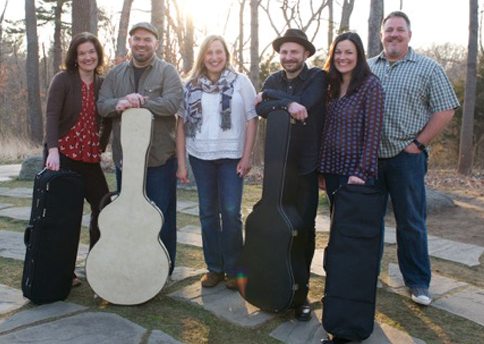 | | | |
| --- | --- | --- |
| Performing: | | Saturday July 16 |
| Stage: | | Main Stage |
| Set Time: | | 3:30 – 4:10 |
"A mix of folk, country and classical music, Miles to Dayton has a very polished sound reminiscent of Nickel Creek.  Delivering four-part harmonies and improvisational violin and cello parts, Miles to Dayton is stacked with solid musicianship and is definitely worth checking out."   – Relix Magazine
Come and meet the family you never knew you had. Miles to Dayton's music happens at a personal level, their message of love blending elements of folk, rock, classical, and funk into an irresistible invitation. The M2D recipe is simple: four-part vocal harmony, clever songwriting, improvisational violin and cello, and an infectious rhythm section that stirs up the creative stew.
At the heart of their unique marriage of styles lies a real-life marriage: vocalist Krista Preddice shares the microphone with husband Jonathan Preddice, who, in addition to being the principal songwriter for the group, also shines on guitar, cello, accordion, and trumpet. Bassist Dave March (Krista's brother) and dynamic violinists Leanne Strom and Alisa Rabbitt (Jon's sister) add depth to the vocal harmonies, with Dave's low, soulful bass and the double violin soaring classical virtuosity providing the sonic bookends for the M2D sound. Drummer Brian Kroll, propels the music forward with an exciting and funky edge.
Having built a large grass roots following of fans young and old, Miles to Dayton has headlined performances at the Patchogue Theater and sold out the Boulton Center, with notable gigs at the Paramount Theatre, Great South Bay Music Festival and the NoFo Rock and Folk Festival. They've been the featured artist at the Acoustic Long Island Podcast and Summer Concert, emerging artist at the Falcon Ridge Folk Festival, and have performed in intimate listening rooms such as Club Passim in Boston and the Living Room in NYC.
Equally at home in the acoustic or full band setup, m2d has shared the stage with the likes of The Infamous Stringdusters, Rhett Miller, The Subdudes, Jorma Kaukonen, The Dirt Farmer Band, Tom Paxton, Southside Johnny and the Asbury Jukes, and Richie Havens, to name a few.
"I've got multiple invites to go to gigs tomorrow night, I've said no to all, the acts have even got major label deals, but if someone told me Miles To Dayton was in town, I'd be THERE!  Because their music touched me, I was energized by it."
– Bob Lefsetz, The Lefsetz Letter
"Miles to Dayton has the ability to blend folk, rock and progressive rock into a distinct sound that, while intricate in its form, seems effortless in the execution of its parts. It is this trademark infusion of acoustic and electric instruments that keeps their music full of contrasts and energy."
– David Dircks, Host of AcousticLongIsland.com
"Miles To Dayton is the next break out act to emerge from the fertile Long Island music scene! Their sound (breaking the boundaries between rock, folk, pop and classical) is music for the discerning listener who enjoys artistry that combines excellent musicianship, intricate vocal stylings and articulate songwriting. M2D's live show is more than a concert…it is an event. A Miles To Dayton performance is one of strong stage presence in a setting that welcomes audiences of all ages."
– Norman Prusslin, Founding General Manager WUSB-FM, Stony Brook, N.Y./ President Emeritus, Intercollegiate Broadcasting System/ Co-Founder, Long Island Music Hall of Fame
"Their latest CD 'Pass It On' is in my opinion the best Indie release of 2011 and is nothing short of a sonic masterpiece."
– Ralph Antignano, Producer, Homegrown Music Café
"Miles to Dayton crosses a lot of musical boundaries from folk to rock and appeals to a broad audience that spans several generations."
– Christopher Capobianco, member/Board of Directors of the Patchogue Theater for the Performing Arts