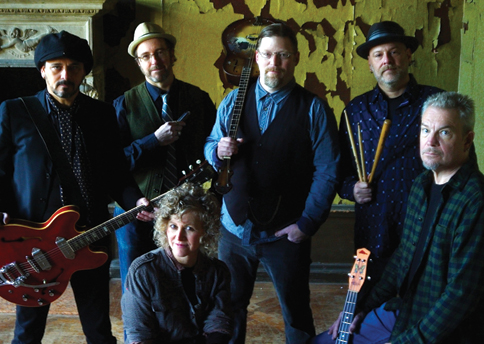 | | | |
| --- | --- | --- |
| Performing: | | Saturday July 16 |
| Stage: | | Main Stage |
| Set Time: | | 2:20 – 3:00pm |
2015 Album Of The Year Nominee – International Folk Music Awards For "The Social Music Hour Vol. 1"
Seeing a Spuyten Duyvil (pronounced "SPITE-en DIE+vul") show for the first time is like "throwing a cherry bomb into a lake" (Rich Warren, WFMT). It wakes you up. Their brand of original and traditional American Roots music blends Olde Time, Blues, 2nd Line, Bluegrass, and Folk Rock with a pinch of Punk Rock energy to create a uniquely modern mix. Lead by song-writing couple, Mark Miller and Beth Kaufman, this six piece powerhouse brings barn burning energy to venues throughout the East Coast and Midwest.
"This is as close to a musical "Come to Jesus" moment as you'll get outside the gospel roots of the deep south. Yonkers, NY based Spuyten Duyvil are the real deal when it comes to roots revivalist Americana music. Historians, outstanding songwriters, accomplished musicians and a musical family atmosphere converge to make some of the most outstanding music around today." -William Hurley, The Alternate Root TV
"Raucous Roots…" – Phillip Lutz, The New York Times
"… the band's arrangements, energy, and attitude always amaze me …big sound, big drama, big groove…" – Stephan Winnick, The Huffington Post
It's an exciting time for the Hudson Valley based band. They have just released their third full length CD, "The Social Music Hour Vol 1". A love letter to the Anthology of American Folk Music, the project features lyrically relevant, known but not worn out, open for suggestion songs that thrives with re-interpretation. Familiar, forgotten words find new meaning in this historically informed but thoroughly contemporary treatment. Old wood, plaster, real spaces, vintage guitars and hot tubes are captured in warm, analog tones by studio designer and engineer Jim Keller (Willie Nelson, Nellie McKay). Recorded by the full band (no click, no net), the tracks burst with life, joy and vitality.
"Those masters of high-octane Americana, Spuyten Duyvil, have achieved a breakthrough on their new CD, "The Social Music Hour Vol, 1." – John Platt, WFUV
"Infused in blues and smoked with folk…. This album is an Americana treasure chest." – Easy Ed, No Depression
"Totally irresistible! … This one will get a LOT of airplay on KPR." Bob McWilliams, Kansas Public Radio
Since it's release in March 2015, "The Social Music Hour Vol. 1" has received a lot of love on the radio with airplay on over 250 stations worldwide including rotation on SiriusXM's The Village.
By the numbers: 
2015 Album Of The Year Nominee – International Folk Music Awards 
#4 Album, the #8 Artist and 7 of the Top 100 songs on the 2015 Annual International Folk DJ Airplay Chart 
#2 Album on April's monthly Folk DJ chart 
#2 on The Roots Music Report's Traditional Folk Chart 
#1 and #2 Songs on May's Roots Music Report's Contemporary Folk Chart 
#2 album on Airplay Directs' monthly AAA chart 
#2 TradFolk Album on Cover Lay Down 
WFUV Top 10 Staff Picks for 2015 (John Platt) 
WAMC 25 Favorite Albums for 2015 (Wanda Fischer) 
Folkadelphia (WXPN) and NPR's 2015 Folkadelphia Sessions Vol. 3 compilation 
WVIA Best of 2015 Albums (George Graham) 
WMSC Top 25 Staff Picks (Joltin' Joe Pszonek) 
KEOS 2016 Favorites (Joe Angel, Random Routes)