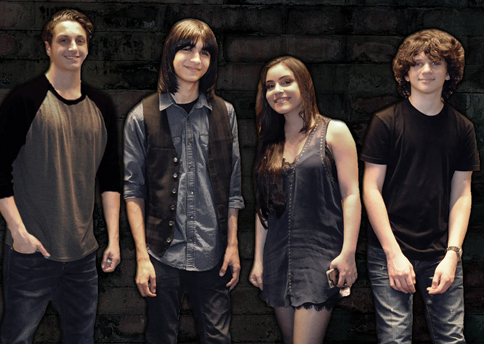 | | | |
| --- | --- | --- |
| Performing: | | Saturday July 16 |
| Stage: | | Clamshell Bandshell |
| Set Time: | | 2:40 – 3:10pm |
Youth Be Told is a young prodigious rock band from Long Island who perform with the heart, soul, and ability usually heard from seasoned musicians more than twice their age. In addition to their original music, the band is well known for performing some of the most challenging rock songs and instrumental covers that have been enjoyed for decades. With their incredible musical abilities, captivating vocals, catchy originals and epic rock covers, these amazing 16 and 17 year olds continue to leave their mark in the NY music scene.
ORIGINAL MUSIC: Youth Be Told had the honor of working and recording their debut EP with Grammy winning music producer Jack Douglas. Mr. Douglas is an icon in the music industry and has produced and worked on albums for Aerosmith, John Lennon, The Who, Cheap Trick, Pink Floyd and Zebra to name just a few. He heard about the band, came out to see them perform, and the rest as they say is rock and roll history. This great collaboration made Youth Be Told the youngest band to be produced by the music legend. This self-titled EP is now available on iTunes and Amazon.
PERFORMANCES: Youth Be Told has performed at amazing venues such as The NYCB Theatre in Westbury, The Paramount, The Grand Ballroom at Webster Hall, The Bitter End, The Nikon Jones Beach Theater side stage, Mulcahy's, and many more. They have been featured in Newsday, Good Times Magazine and News12. They have performed for the Great South Bay Music Festival and have also opened for Randy Jackson, the Long Island Music Hall Of Fame fundraiser featuring Foghat, We The Kings, and Cody Simpson. They were selected by Long Island's #1 Rock station 102.3 WBAB for their Homegrown Superstar contest and were in the finals. Last August, they opened at The Paramount for Billy Joel band members Mike DelGuidice and Big Shot. They were also invited to open for Zebra at the iconic NYCB Theater in Westbury. The band received a standing ovation from thousands of fans as they ended their set with their original song, "Words Without Meaning". Zebra tweeted, "They got one of the greatest audience responses of all the bands we have performed with in our 40 year history." This October, they were nominated in the Long Island Press' Best Of Long Island 2016 competition in the category for best original band.
PAYING IT FORWARD: Youth Be Told also uses their love of music and performing to help those in need. They were invited to be included in a Beatles tribute benefit CD to help America Food Banks and Long Island Cares. The last benefit CD included iconic artists such as Heart, Jackson Brown, The Indigo Girls and some up and coming artists. Their recording, of the Beatles Golden Slumbers medley, for now, can be heard on their YouTube channel. The band has also performed and helped raise needed supplies, money, and awareness for The American Cancer Society, The Make A Wish Foundation, Autism Speaks, The Jones Beach Cancer Walk, The Leukemia and Lymphoma Foundation, Rock Out Cures, The Wounded Warriors Project, Relay For Life, Angela's House, and Rock Can Roll to name a few. The band believes that music and giving back go hand in hand and consider these some of their favorite and most important shows to perform for.
To see, hear and meet the kids of Youth Be Told is to become an instant fan. Not only are they extremely talented and giving, they are also incredibly humble and grateful for all the experiences and opportunities that they have and continue to receive. They thank their fans for this, and one of those fans happens to be the lead singer from the legendary band YES. Youth Be Told's guitarist Lennon met Jon Davison after a show and shortly after, Jon sent Lennon one of the most amazing emails. When asked if it was ok to share it with their fans, Jon graciously said, "Absolutely!" Part of Jon's email read, "My wife and I have recently seen your cool website and amazing videos and have to express our appreciation for the immense talent you portray! You are indeed gifted musicians and hold great potential for a bright future! Please keep it up and have faith in your dreams. Lennon, it was great meeting you after the YES concert in Westbury. Hopefully our paths will cross again sometime in the future. You're going to do great things in this world! With your God-given talent, you are in a position to offer much joy and inspiration. Remember to always help others by sharing your talent in constructive and uplifting ways. ROCK ON YOUTH BE TOLD!"
Their paths did happen to cross again and Youth Be Told is proving that Jon's words hold true for them.
Lennon Ashton – guitar, keys
Katie Zimmer – vocals
Rocco Giordano – drums